$2 million Albaugh gift to support Food Bank of Iowa expansion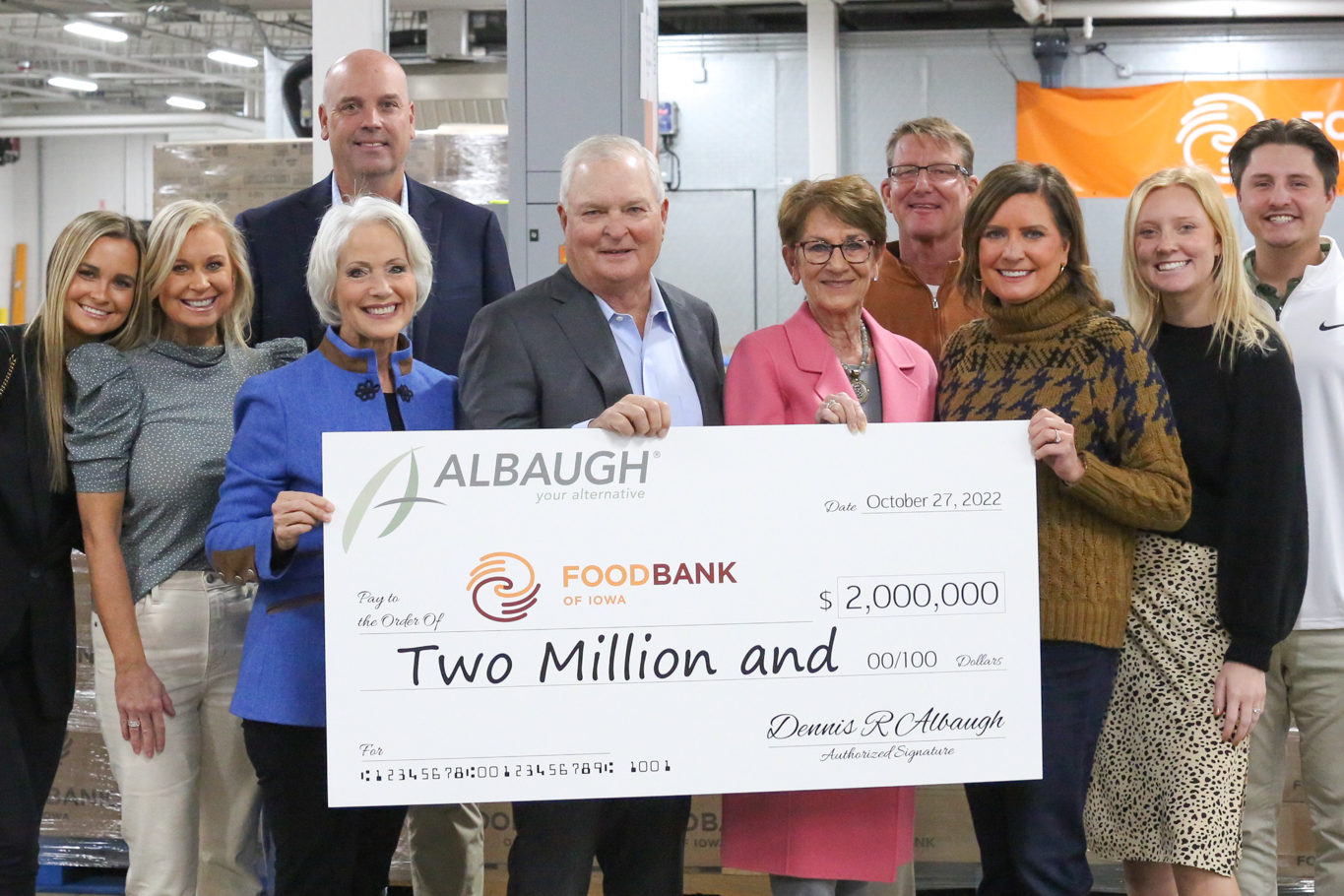 Des Moines, Iowa (Oct. 27, 2022) — Ankeny-based Albaugh LLC today provided a gift of $2 million to support Food Bank of Iowa's building addition, which will double the size of its Des Moines distribution center. This is the largest donation Food Bank of Iowa has ever received.
"Our mission at Albaugh and the mission of Food Bank of Iowa are well aligned to help assure that no one should have to go hungry," said Dennis Albaugh, founder and chairman of Albaugh. "It is our honor and privilege to be able to support Food Bank of Iowa in this essential endeavor. Even as the unemployment rate remains at relatively low levels, the work of Food Bank of Iowa is as essential as ever to meet the needs of the working poor, persons with disabilities, the elderly, children, veterans and others needing support. Albaugh and its 2,900 employees globally are proud to lend our support to this necessary project, and we hope others in the 55 counties supported by the food bank will join us to make this project a reality."
The 30,000-square-foot addition will allow Food Bank of Iowa to readily accept larger donations, purchase food more cost-effectively and improve safety and efficiency.
The $11 million project includes more than 12,500 square feet of freezer space, 16,000 square feet of dry storage space, additional dock doors, a small office and paving replacement. The expansion, supported by the Building Healthy Futures campaign announced last month, is the food bank's first since moving to its current facility in 1999.
"Dennis Albaugh is a hardworking, visionary leader who invests strategically in the future of Iowa," said Michelle Book, Food Bank of Iowa CEO. "This act of generosity is key to building a sustainable solution for addressing food insecurity for decades to come."
Albaugh LLC's gift will be recognized on an exterior mural, to be installed at a future date, near Food Bank of Iowa's volunteer center entrance. Albaugh branding also will be added to Food Bank of Iowa trucks, along with other sponsor logos.
Media Contact
Annette Hacker, Food Bank of Iowa, 515-867-2885, ahacker@foodbankiowa.org.
About Albaugh LLC
Albaugh LLC is a privately owned U.S. limited liability corporation, founded in 1979 by Dennis Albaugh. Headquartered in Ankeny, Iowa, Albaugh is the world's largest privately held supplier of crop protection products with an ever-expanding portfolio of core crop protection products, seed treatment platforms and the Prime Source line of specialty products. Albaugh is a global business, operating world-class, multi-functional plants in North America, Mexico/LATAM North, Brazil/Paraguay, Argentina/LATAM South, Europe/MEA and China/Asia Pacific. To learn more, visit www.albaughllc.com.
About Food Bank of Iowa
In its 40th year, Food Bank of Iowa provides food for Iowa children, families, seniors and veterans to lead full and active lives, strengthening the communities where they live. Serving 55 of Iowa's 99 counties, Food Bank of Iowa delivered more than 17 million pounds of food to its 700 partners last year.

Any organization or individual interested in joining the fight for a hunger-free Iowa can volunteer, donate and find advocacy information at www.foodbankiowa.org.