Gingerbread Lane Gives Back
Holiday spirit lasted a little longer this year at Food Bank of Iowa, thanks to the organizers and volunteers from Gingerbread Lane in Ankeny. For those who haven't seen this long-lasting tradition on SE Richland Court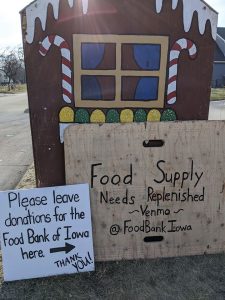 , it's a neighborhood filled with bright, sparkly lights, open in December for the community to come and enjoy the magic.
What's especially magical about Gingerbread Lane is how they give back to Food Bank of Iowa. While a drive through the event is free, the organizers encourage attendees to bring a nonperishable food donation or make a monetary donation to Food Bank of Iowa. Their latest season (2019), Gingerbread Lane collected nearly 3,000 pounds of food and $6,695.52 in monetary donations. This will provide 29,272 meals to hungry Iowans!
This is not the first time Gingerbread Lane has helped provide meals to Food Bank of Iowa. Since 2017, Gingerbread Lane has raised over $18,600. At Food Bank of Iowa, we are able to provide up to 4 meals with $1. This means that the event has provided over 74,400 meals since 2017!
From all of us at Food Bank of Iowa – thank you, Gingerbread Lane, for creating magic and spreading joy by supporting our organization!