Donations help us fill our inventory and continue to serve Iowans facing food insecurity. We're incredibly grateful for the continued generosity of people like you. We couldn't do what we do without your help.
Your donation makes a difference for Iowans in need. Every item of food we distribute goes to children, families and seniors in our communities who are struggling with hunger.
There are many ways individuals, families and organizations can make a difference by donating food to the Food Bank of Iowa. Find out how you can help us help those in need.
Donation Guidelines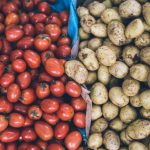 We adhere to industry standard food safety guidelines, and donors are protected from liability by Good Samaritan laws.
When donating to the Food Bank of Iowa:
All donations must be undamaged, unspoiled and unexpired.
Packaged food must be unopened and in its original packaging with the nutrition label.
Meat must be processed in a USDA-inspected locker and labeled with the product name, weight, manufacturing location and ingredients. It must also be properly refrigerated or frozen.
Please call us at 515-564-0330 before making large donations. We accept donations at our Des Moines distribution center, 2220 E. 17th St., during the following hours:
– Monday through Thursday, 8 a.m. to 4 p.m.
– Friday, 8 a.m. to noon.
Other Ways to Donate
Food Drives
Food drives of all sizes make a difference, from a small office or classroom to Combat Hunger, our largest annual food drive. Here are some of our most needed items:
Protein, including canned meat and canned fish
Canned goods, like vegetables, fruit, soup and pasta sauce
Breakfast items, including cereal
100% fruit juice
Paper and personal products, like toothpaste, soap and toilet paper
We strive to supply the most nutritious items possible, so please consider donating low-sodium items.
---
Individual Food Donations
Whether it's just a few items or a trunk full of food, Food Bank of Iowa is grateful for however you can help our neighbors facing food insecurity. Your donations can include grocery items, personal care items and homegrown garden produce. Please call us at 515-564-0330 before donating to learn more about our most-needed items.
---
Gardeners and Farmers
We welcome donations of fresh fruits and vegetables! We're always happy to work with farmers and gardeners to arrange large donations of fresh produce.
---
Hunters and Meat Processing
HUSH, or Help Us Stop Hunger, reduces Iowa's deer population and provides high-quality ground venison to Iowans facing hunger through food banks. Hunters can donate legally harvested deer through participating USDA meat lockers. If you have any questions, please email Stephanie.Lawrence@dnr.iowa.gov or call 515-725-8265.
Processing your own pork, beef or other meat? We welcome donations processed in a USDA-inspected locker. Your locker will be able to tell you whether they meet these requirements.
---
Retail and Food Industry Donations
Donations from retailers, food producers and wholesalers go a long way toward helping us meet our mission. We accept surplus products like dry, refrigerated and frozen foods, as well as personal care items.
---
Financial Donations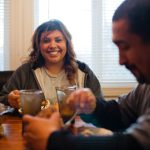 Making a tax-deductible donation to Food Bank of Iowa is the most effective way to help end hunger in Iowa. We're able to stretch financial donations a long way through our relationships with Feeding America, USDA and large food producers and wholesalers. We buy nutritious food by the truckload that's harder to donate, like fresh produce, frozen meat, milk and eggs.
Every dollar you donate helps us provide nourishing food to Iowans facing food insecurity in 55 counties. Here are some examples of how we can stretch your donation:
$100 can purchase 5 cases of applesauce—that's 120 cans!
$4,500 can purchase 20,000 pounds of potatoes—that's half a truckload!
$5,000 can purchase 606 cases of macaroni and cheese—that's 14,544 boxes!
Donate Now
Questions about donations?
General donation questions: Food Bank of Iowa, 515-564-0330
Questions on donations from retail stores, the food industry, gardeners, farmers or meat processing: Emily Shearer, 515-867-2894
---