Neighbors living on fixed incomes are thankful for YOU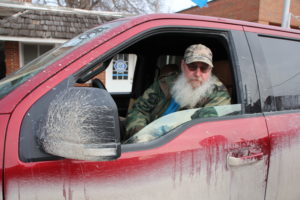 David proudly served as a Marine until 1986. He has two adult children – it's just David at home these days. He likes to hunt and fish when he can, but he has a bad back, which has kept him from enjoying his hobbies.
His back has also prevented David from working. He receives SSI disability assistance, but with the prices of everything rising so quickly, David needs help making ends meet.
Neighbors with fixed incomes like David are all facing this problem right now. Whenever a shift in our economy takes place, community members who aren't able to earn extra money are sadly left behind.
You help make up the difference for people like David when you give to Food Bank of Iowa. Partner agencies like Redfield Mobile Pantry provide invaluable support in the form of nutritious food.
Your generosity makes it so money can go toward housing or utility bills instead of food, which is a huge relief for neighbors living on fixed incomes.
"I'd like to give a great, heartfelt thanks to donors who help," David says. "They are a godsend. I'm so thankful to be able to tell them that."
To echo David's words, we, too, are grateful for your generosity that helps so many people facing hunger here in Iowa. Thank you for being there for your neighbors.