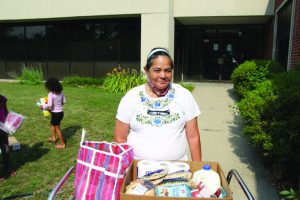 Lourdes receives food from a Food Bank of Iowa partner food pantry.
Because of her diabetes, eating nutritious food is especially important for Lourdes. But the foods that are best for her aren't always accessible when shopping on a tight budget.
Lourdes' husband recently had a stroke as well. He's missed out on work and his condition is likely career-altering. He and Lourdes don't currently qualify for government assistance.
Lourdes was relieved to first hear about a Food Bank of Iowa partner food pantry on the radio. She's especially grateful for the Spanish-speaking volunteers at the pantry who make her feel at home.
"Thank you," she says about the help from you that she treasures. "This is so important…"
In addition to picking up about two weeks' worth of food for herself and her husband, Lourdes also brings food to her sister's family. They, too, have an ill family member.
You're providing invaluable support for neighbors like Lourdes, her husband and her sister's family. Because you choose to give, Lourdes can confidently say friends like you have her back during these difficult times. Thank you for being there for your Iowa neighbors.