Henry Harris will be remembered as a kind individual, one who loved life and lived it fully, while taking time to care about others. Due to memorial donations to Food Bank of Iowa in Henry's honor, Henry will help thousands of food insecure Iowans and his legacy as a passionate hunger fighter will not be forgotten.
Between fourth and fifth grade, when many children are fully active playing sports and riding bikes, Henry began showing symptoms of a progressive neuromuscular disorder which impaired the functionality of his muscles. But Henry did not let this slow him down from experiencing life.
Daria Schmidt, Henry's mother, described him as an outgoing person, avid gamer, enthusiastic traveler, and a kid who reveled in time spent with loved ones with his rescue dog by his side. Henry had a serious side as a focused and dedicated Arizona State University student pursuing a degree in Computer Information Systems. Henry was generous of spirit and surrounded by friends who focused on his abilities – not his disabilities.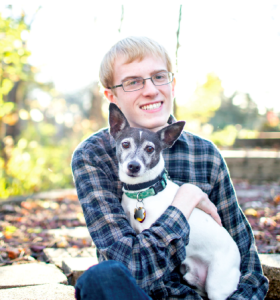 Henry had many gifts, one being a fervent voice. He was passionate about issues of inequity and was not afraid to speak up. Daria shared, "Social injustice drove him crazy. He never understood why people wouldn't do their best to help others."
Henry was particularly passionate about food insecurity, frequently sponsoring food drives and supporting hunger fighting organizations. When Henry received a federal stimulus check in March, he promptly donated it to Food Bank of Iowa. Henry felt he was fortunate and wanted to help others not so well off.
This past July, the neurologic disorder, which made its presence known in grade school, took Henry's life at the tender age of 21. In lieu of flowers, his family requested gifts be made to their local food bank. Food Bank of Iowa received $12,000 in memory of Henry. Gifts came from all over the country – from coast to coast and right here in Iowa.
Because of Henry, Food Bank of Iowa was able to provide 48,000 meals to those living amidst fear and scarcity. Daria is grateful, knowing Henry would be thrilled and amazed by the gentle kindness his friends and family provided on his behalf. Per Daria, Henry would want people to help others, to slow down and enjoy life. Although he is no longer with us, Henry Harris' legacy lives on.
You can honor or pay tribute to a loved one through a gift to Food Bank of Iowa. Contact our Philanthropy team at give@foodbankiowa.org or visit our website www.foodbankiowa.org to learn more.