Golf tournament tops $125,000 to support Food Bank of Iowa's childhood hunger programs
Des Moines, Iowa (September 15, 2021) — Drive Away Childhood Hunger, Food Bank of Iowa's first-ever golf tournament, has raised more than $125,000. That translates to half a million meals (four meals for every $1 donated) to help feed hungry Iowa children.
The event was held September 14 at the private Talons of Tuscany golf course in Ankeny. The day ended with a reception at the Albaugh Car Barn – a rare opportunity to tour Dennis Albaugh's private vintage car collection. Funds raised from Drive Away Childhood Hunger will support Food Bank of Iowa's school pantry and BackPack programs.
One in eight Iowa kids face hunger. Across the state, 46% of students qualify for free and reduced-price school meals, and one-fifth of those children are chronically hungry – meaning the cupboards are bare at home.
Food Bank of Iowa's BackPack Program™ provides weekly bags of kid-friendly, nutritionally balanced food to 4,500 elementary school students enrolled in the program. The food tides kids over on Saturdays and Sundays, allowing them to return to school on Monday ready to learn. In addition, Food Bank of Iowa stocks the shelves of 100 school pantries across its 55-county region, helping adolescents and other family members in need.
"Yesterday's generosity on the part of Dennis Albaugh, his team, the many sponsors and golfers made a big difference in the lives of many Iowa kids," said Michelle Book, Food Bank of Iowa CEO. "In one extraordinary day, we raised enough to provide 42,000 BackPack bags. This was an amazing outcome for food insecure kids."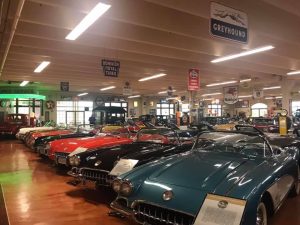 The event was hosted by Talons Golf and presented by Sammons Financial. Sponsors included Foster Group, Fareway, Tim and Toni Urban, Atlantic Bottling Co., Underwood Foundation, The Waldinger Corp., Versova, Doll Distributing and Olive & Oak Design. Additional sponsors included Central Appliances, Century 21 – Ethan Hokel, Century 21 – Kyle Clarkson, Elder Corp., Flynn Wright, Foot & Ankle Center of Iowa, Humana, National Pork Board, Oral Surgeons, PC; R2 Financial Strategies, Thermo King, VanWall, Willis Automotive, Workspace and 20/Twenty EyeCare.
Food Bank of Iowa's mission is to provide food for Iowa children, families and seniors to lead full and active lives, strengthening the communities where they live. Serving 55 of Iowa's 99 counties, Food Bank of Iowa distributed 9,281,828 meals last year.
Any organization or individual interested in joining the fight for a hunger-free Iowa can volunteer, donate and find advocacy information at www.foodbankiowa.org.
About Food Bank of Iowa
Leveraging bulk purchasing power, retail food rescue relationships and USDA's The Emergency Food Assistance Program, Food Bank of Iowa sources free and reduced-cost food for Iowans in need. The food bank keeps the food safe and delivers it to 650 partners—including community meal sites; church, school, and community pantries; daycares; homeless shelters; and rehab sites—who then distribute food to children, seniors, veterans and hard-working Iowans. Food Bank of Iowa provides food to pantries, schools, and social service organizations in 55 counties, covering big cities and small towns across 30,000 square miles. To learn more, visit www.foodbankiowa.org or find us on Facebook at www.facebook.com/foodbankiowa.