Fareway, Iowa Farm Bureau donate 57,863 pounds of ground beef and turkey to Iowa food banks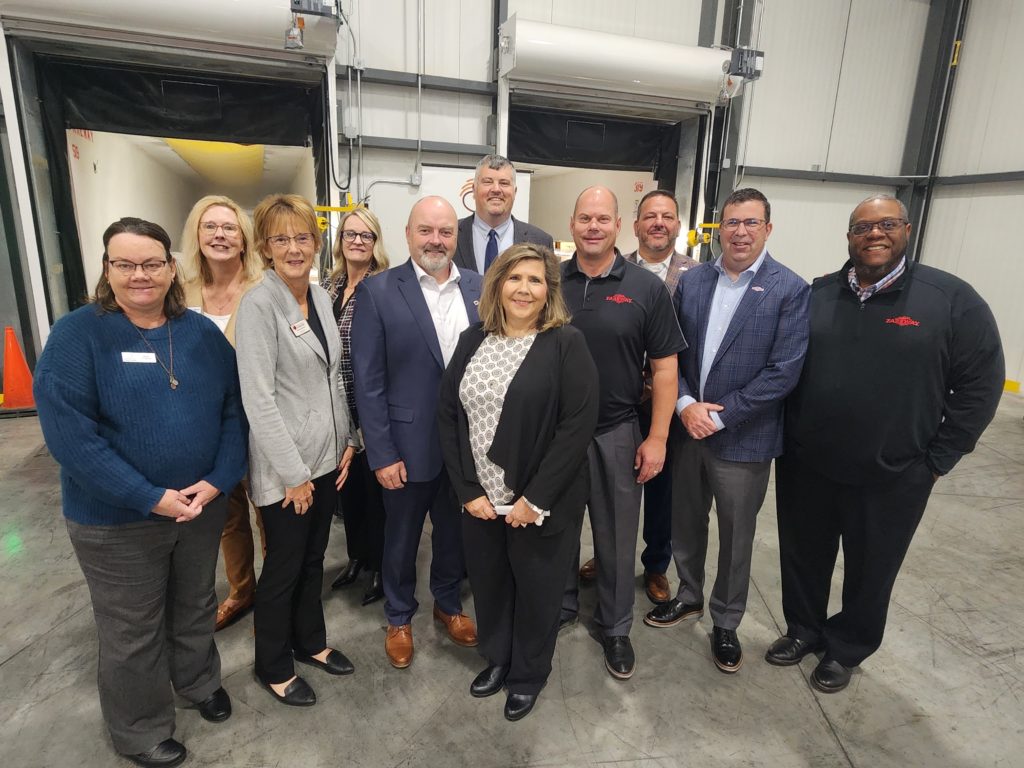 DES MOINES, Iowa (Nov. 8, 2023) — Fareway Stores Inc. and Iowa Farm Bureau partnered together to donate 57,863 pounds of ground protein to Iowa food banks in response to Food Bank of Iowa's "Meat" the Need campaign. For every 10-pound tube of ground beef sold at Fareway Oct. 30 – Nov. 4, one pound of lean protein was donated to local food banks in partnership with the Iowa Food Bank Association and Food Bank of Iowa.
The donation took place Nov. 8 at Food Bank of Iowa in Des Moines. Fareway CEO Reynolds Cramer, Iowa Farm Bureau President Brent Johnson and food bank representatives spoke on the importance of local food donations, food insecurity challenges, and partnerships formed through the 'Meat the Need' campaign.
"Growing and raising the food that nourishes and sustains our communities is a source of tremendous pride for Iowa farmers," Iowa Farm Bureau's Johnson said. "Unfortunately, food insecurity is a challenge that impacts families in communities across the state, which is why Iowa Farm Bureau has proudly joined Fareway to help "Meat" the Need by filling a semitruck trailer with lean, high-protein ground meat for statewide distribution to help our neighbors during a time of need."
"We are proud to partner with Iowa Farm Bureau, Food Bank of Iowa and the Iowa Food Bank Association to help food banks across Iowa," said Jeff Cook, vice president of market operations for Fareway Stores. "Thank you to our generous customers for participating, Iowa stores and meat markets, and our partners at Iowa Farm Bureau for helping secure lean protein for local food banks going into the holiday seasons."
About Iowa Farm Bureau
The Iowa Farm Bureau Federation is the largest statewide, grassroots farm organization in Iowa, celebrating more than 100 years of creating a vibrant future for agriculture, farm families and their communities. For more information, visit www.iowafarmbureau.com.
About Food Bank of Iowa
Established in 1982, Food Bank of Iowa provides nutritious food for Iowa children, families, seniors and veterans to lead full and active lives, strengthening their communities. Serving 55 of Iowa's 99 counties, Food Bank of Iowa delivers more than 21 million pounds of food (more than 17 million meals) to its 700 partners annually. Learn more at foodbankiowa.org.
About Lead with Love
Lead with Love represents Fareway's mission of supporting its local communities through charitable giving and other initiatives by direct involvement and donated resources. Love unifies, transforms, and forms the foundation of community. Lead with Love is a valued philosophy held by Fareway and inspired by its outstanding employees. Visit Fareway.com/LeadwithLove for more information.
About Fareway
Fareway Stores Inc. is a growing Midwest grocery company currently operating 139 stores in a seven-state region. Fareway's mission is to provide the highest quality products, while treating customers like family, and valuing dedicated employees. Its stores are known for their unmatched, full-service meat departments, farm-fresh produce and exceptional to-your-car customer service. Fareway is a family-owned business, recognized as a top 10 employer in Iowa, and has more than 12,000 total employees. Visit Fareway.com for more information or shop online by visiting Shop.Fareway.com.