Food Bank of Iowa recognized for exceptional work by Feeding America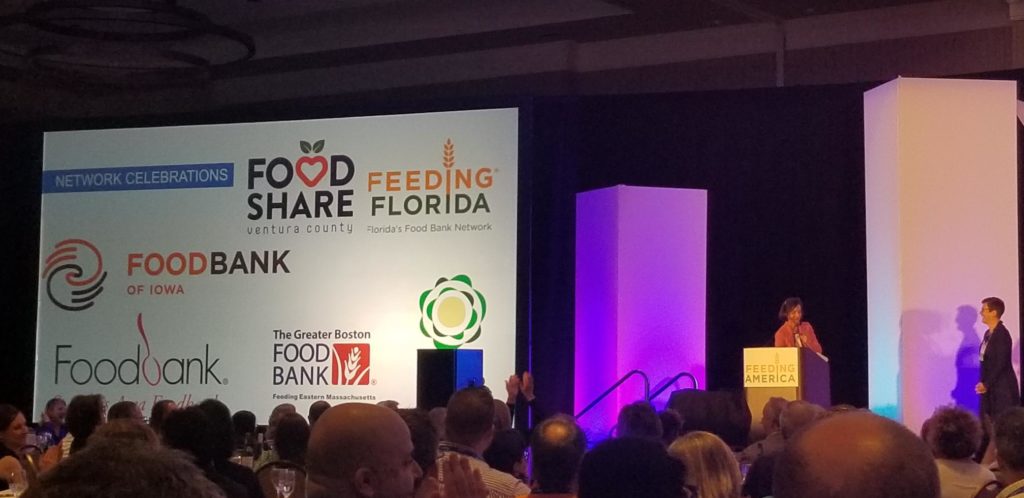 April 8, 2022 – Feeding America, the nation's largest domestic hunger-relief organization, recognized Food Bank of Iowa's outstanding work during its annual conference in Louisville, Ky., this week.
Food Bank of Iowa was among six food banks nationwide commended during the conference's "Network Celebrations" event. The honor stemmed from Food Bank of Iowa's "exceptional efforts in seeking out new community partnerships, while deepening existing alliances" throughout the pandemic.
Building on the momentum of expanded faith-based relationships during COVID, Food Bank of Iowa harnessed this energy to identify creative solutions to serve marginalized populations experiencing food insecurity – especially in Latino, African and Asian immigrant communities. One powerful result was a new community partnership with 15 pastors of African immigrant evangelical congregations, a group that was not being served by other organizations. Today, one of the largest churches serves as a food distribution hub for the other congregations, with Food Bank of Iowa delivering once a week.
"We know that food insecurity disproportionately affects immigrant families, and the pandemic exacerbated that need," said Food Bank of Iowa President and CEO Michelle Book. "When we considered where people naturally go, and how we can provide food access in a comfortable environment, it made sense to build and extend our partnerships in the faith-based community."
"Food Bank of Iowa has made a tremendous impact for people facing hunger in their community," said Claire Babineaux-Fontenot, CEO of Feeding America. "This honor goes to every person connected to the food bank – from the directors, employees, volunteers and donors to their mission-critical partners. From their focus on engaging with new partners to supporting their peer food banks in times of disaster or emergency, the Feeding America network demonstrates the impact we can have when we come together."
With a mission to advance change in America by ensuring equitable access to nutritious food for all, Feeding America is a network of more than 200 food banks, 21 statewide food bank associations, and more than 60,000 partner agencies, food pantries and meal programs helping tens of millions of people annually. Collectively, since the start of the pandemic, the Feeding America network has provided more than 10.8 billion meals to tens of millions of people in need.
###
Media Contact
Annette Hacker, Food Bank of Iowa, 515-867-2885, ahacker@foodbankiowa.org
About Food Bank of Iowa
Food Bank of Iowa provides food for Iowa children, families, seniors and veterans to lead full and active lives, strengthening the communities where they live. Serving 55 of Iowa's 99 counties, Food Bank of Iowa delivered more than 17 million pounds of food to its 677 partners in 2021. This year marks Food Bank of Iowa's 40th year of providing food and hope for our neighbors in need. To give help, or get help, visit foodbankiowa.org.