Food Bank of Iowa expands to meet growing need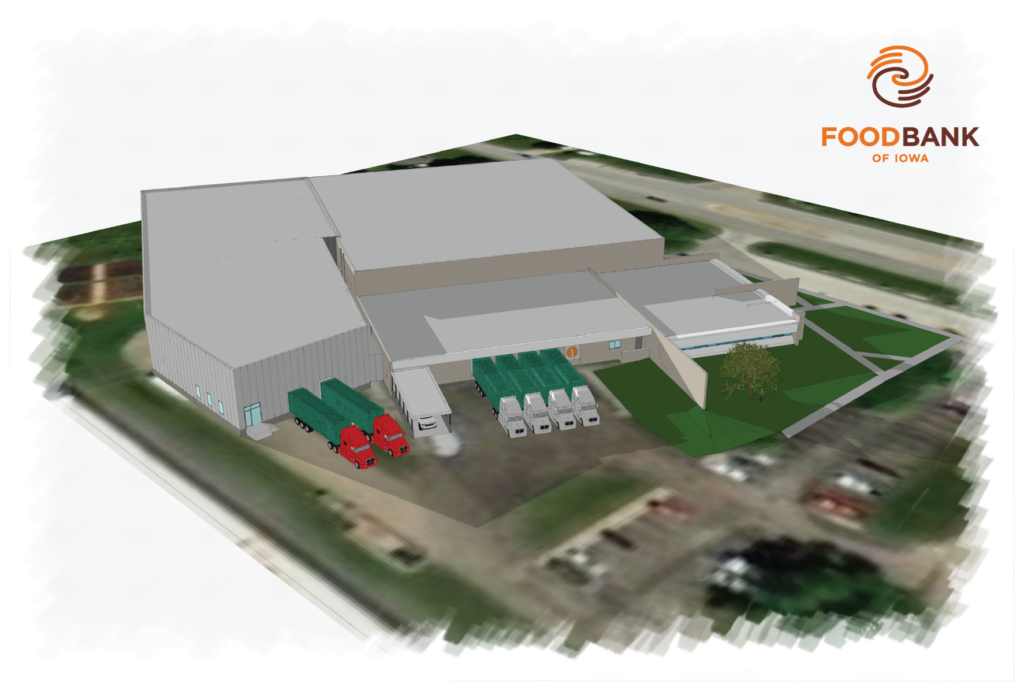 Des Moines, Iowa (Aug. 9, 2022) — Food Bank of Iowa officials today announced a 30,000-square-foot addition to the organization's Des Moines distribution center. The expansion will nearly double food storage capacity, allowing Food Bank of Iowa to accept more donations, purchase more food and improve efficiency.
This expansion is the food bank's first since moving to its current 50,000-square-foot facility (a former beer distributorship) in 1999. The distribution center was remodeled in 2018 to triple storage capacity, but without adding square feet. The new addition will include:
More than 12,500 square feet of freezer space
Nearly 16,000 square feet of dry storage space
Loading dock
A small office to locate the inventory team closer to where food is received
Parking lot and dock paving replacement and associated site work
"Food Bank of Iowa is out of room," said President and CEO Michelle Book. "As the need for food assistance skyrockets, we can no longer make do with cramped space and unreliable off-site storage. We are distributing 1.5 million pounds of food monthly to 700 pantries and feeding sites and anticipate that will grow to 2 million pounds a month within the next two years."
Record numbers sought food assistance in Food Bank of Iowa's 55-county area in May and June, the most recent reporting available. In June, 135,300 individuals and 48,262 households were served – the highest number in Food Bank of Iowa's 40-year history. The previous record for individuals was in May with 121,714 persons served.
Prairie Meadows Dock
Prairie Meadows has awarded Food Bank of Iowa a $250,000 Legacy Grant in support of the expansion. The grant program provides funding for large-scale, signature projects in central Iowa. Food Bank of Iowa is among 21 Greater Des Moines charitable organizations receiving Legacy Grants totaling $5 million.
Prairie Meadows' donation will be recognized on Food Bank of Iowa's new dock signage and on a donor wall.
The $11 million project is expected to be completed by June 2023 and will be funded through reserves and donor contributions.
General contractor: Ryan Companies
Design: RDG Planning & Design
Mechanical/Electrical/HVAC: The Waldinger Corp.
Excavation/Earthwork: Kelly Cortum Inc.
Media Contact
Annette Hacker, Food Bank of Iowa, 515-867-2885, ahacker@foodbankiowa.org
About Food Bank of Iowa
In its 40th year, Food Bank of Iowa provides food for Iowa children, families, seniors and veterans to lead full and active lives, strengthening the communities where they live. Serving 55 of Iowa's 99 counties, Food Bank of Iowa delivered more than 17 million pounds of food to its 700 partners last year.
Any organization or individual interested in joining the fight for a hunger-free Iowa can volunteer, donate and find advocacy information at www.foodbankiowa.org.