Food insecurity continues to rise; records broken again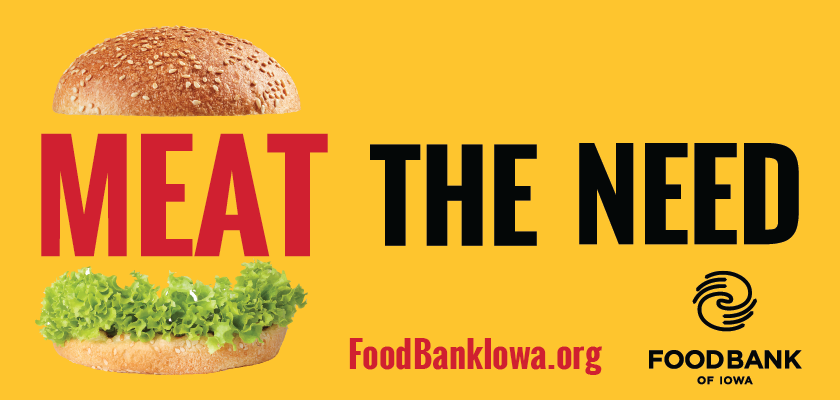 DES MOINES, Iowa — For the third month in a row, Food Bank of Iowa and its 700 partners have broken records in the number of individuals and households receiving food assistance.

In July, the most recent month available, 136,087 individuals and 50,496 households were served in Food Bank of Iowa's 55-county region. The previous record was set in June (135,300 individuals and 48,262 households). The record numbers seeking food assistance now are not only greater than during the peak of COVID-19, but are the highest Food Bank of Iowa has experienced in its 40-year history.
In Iowa and across the country, more people are visiting food pantries for help. Higher food, fuel, housing and utility costs are driving the need, but high prices also are affecting food banks. Food Bank of Iowa has spent 650% more to purchase food in the first eight months of 2022 than it did during the same period last year.
'Meat' the Need
Food Bank of Iowa's greatest (and constant) need is meat. Decreased USDA support and fewer retail donations mean Food Bank of Iowa needs to buy more meat. The food bank's current protein inventory includes canned meat, eggs and peanut butter, but it is always working to source more fresh and frozen meat.
Donations will help the food bank 'Meat' the Need. Learn more at https://foodbankiowa.org/meattheneed/.
Media Contact
Annette Hacker, Food Bank of Iowa, 515-867-2885, ahacker@foodbankiowa.org.
About Food Bank of Iowa
In its 40th year, Food Bank of Iowa provides food for Iowa children, families, seniors and veterans to lead full and active lives, strengthening the communities where they live. Serving 55 of Iowa's 99 counties, Food Bank of Iowa delivered more than 17 million pounds of food to its 700 partners last year.
Any organization or individual interested in joining the fight for a hunger-free Iowa can volunteer, donate and find advocacy information at www.foodbankiowa.org.