Holly Houg wins state fair casserole contest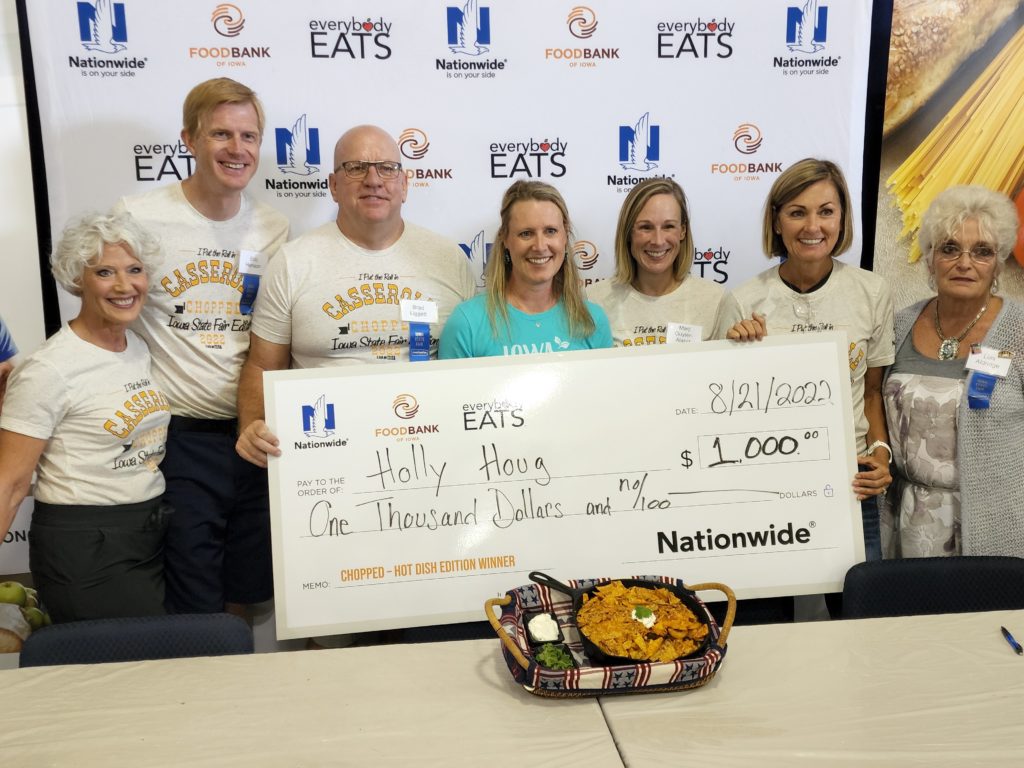 DES MOINES, Iowa — Holly Houg of Urbandale won first place in Food Bank of Iowa's "Chopped — Hot Dish Edition" casserole competition, sponsored by Nationwide, on the final day of the 2022 Iowa State Fair.
Houg's "Taco Chili Mac," featuring ground venison, wowed the judges for its flavor, affordability and creative use of ingredients. She received a $1,000 cash prize provided by Nationwide.
Marcia Miller of Des Moines won second place and $500 for her "Easy Cheesy Chicken, Broccoli and Rice." Patty Hunt of Ankeny claimed third place and $250 for her entry, "Mexican Pork Potato Casserole."
These winning recipes will be added to the online Chopped — Hot Dish Edition cookbook.
The second annual competition challenged entrants to create simple, affordable, delicious recipes using ingredients easily obtainable by food pantry guests. Entries had to cost $4 or less per serving, be made in 60 or fewer minutes and include one ingredient from each of six categories: starch, sauce, protein, vegetable, topping and seasoning.
Judges were Iowa Gov. Kim Reynolds, KCCI-TV anchor Eric Hanson, Marji Guyler-Alaniz, president and founder of FarmHer; Brad Liggett, president of agribusiness at Nationwide; and Lois Aldridge, Iowa State Fair. Emcees were Food Bank of Iowa CEO Michelle Book and Sugar Freakshow bakery owner Andrew Fuller, Season 1 winner of Netflix's "Is it Cake?"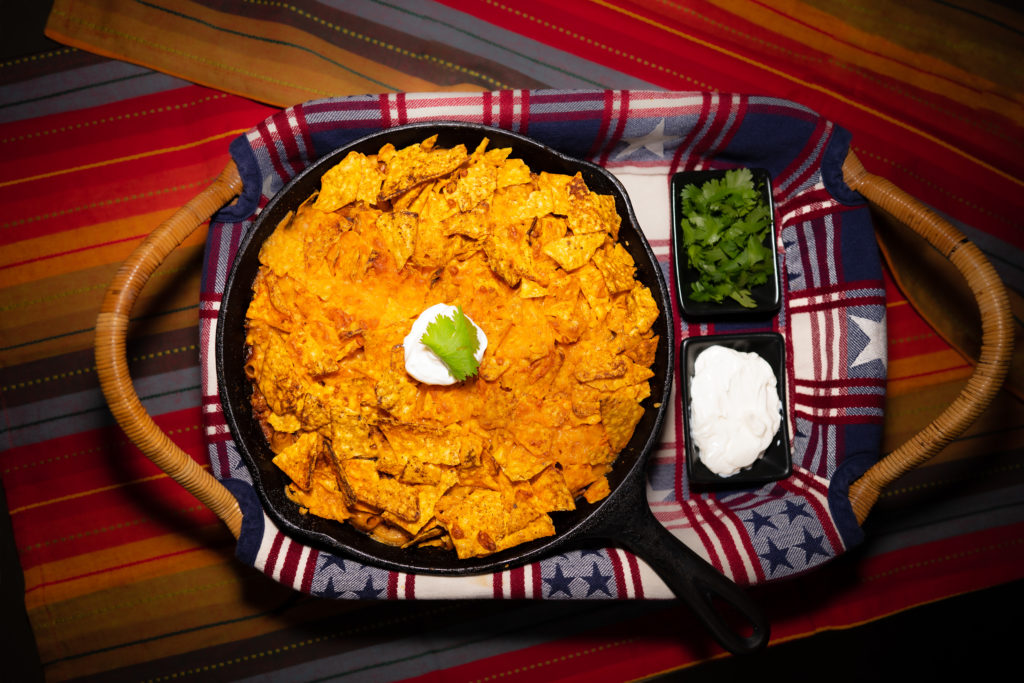 RECIPE: Holly Houg's winning Taco Chili Mac
1 lb. ground venison
1 packet of taco seasoning, divided
1 (8-ounce) can tomato sauce
7 ounces taco sauce
2 1/4 cups beef broth
1 cup milk
8 ounces elbow macaroni
4 ounces corn
1/2 cup black beans
1 teaspoon onion powder
2 cups corn or tortilla chips, coarsely crushed
2 cups cheddar cheese, divided
2 tablespoons fresh cilantro, if desired
1/4 cup sour cream, if desired

Preheat oven to 400 degrees. Heat a large, oven-safe skillet over medium-high heat. Add ground venison to pan, breaking it into chunks. Add 2 tablespoons of the taco seasoning to the meat. Continue cooking until meat is browned, about 5-7 minutes. Drain. Stir in tomato sauce, taco sauce, beef broth, milk and onion powder. Bring to a simmer and stir in the pasta. Continue simmering, uncovered, over medium heat for about 10 minutes or until pasta is tender, stirring occasionally. Add the corn and beans.

Meanwhile, combine the crushed chips, 1 cup of the cheese and the remainder of the taco seasoning; set aside.

Once the pasta is cooked, mix in the remaining 1 cup of cheese. Top with chip mixture and bake uncovered for 6-8 minutes or until cheese is melted. Right before serving, top with sour cream and cilantro, if desired.

Yield: 6 servings
Cost per serving: $2.64
Media Contact
Annette Hacker, Food Bank of Iowa, 515-867-2885, ahacker@foodbankiowa.org.
About Food Bank of Iowa
In its 40th year, Food Bank of Iowa provides food for Iowa children, families, seniors and veterans to lead full and active lives, strengthening the communities where they live. Serving 55 of Iowa's 99 counties, Food Bank of Iowa delivered more than 17 million pounds of food to its 700 partners last year.
Any organization or individual interested in joining the fight for a hunger-free Iowa can volunteer, donate and find advocacy information at www.foodbankiowa.org.