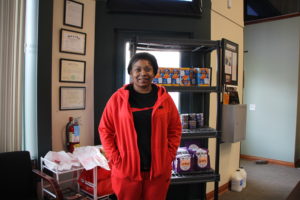 Shamar has been part of our community her whole life, so she was very familiar with Food Bank of Iowa partner agency Urban Dreams. She's passionate about teens, kids and being a role model, so getting involved with Urban Dreams was a no-brainer.
Shamar has long referred people to Urban Dreams for food assistance, mental health services, workforce development and chemical dependency. Now, she loves to volunteer there.
Shamar is a mother to three beautiful children. She works as a hairstylist in her converted garage, which she and her dad built together.
Even though she's working, with the price of food increasing so drastically, Shamar finds Urban Dreams is a great resource for her own family as well. Her 3-year-old has autism and Shamar has many out-of-pocket medical expenses and therapy bills to cover. Thankfully, the help she gets with food from Urban Dreams means she doesn't have to choose between paying bills and buying groceries.
To the donors who make food distributions at partner agencies like Urban Dreams possible, Shamar says, "We are grateful and appreciate your support, and we hope you continue to help the community and kids."
Thank you for giving so generously to make a difference for our neighbors here in Iowa. Your generosity is critical and has a huge impact on our community.