Sinclair Tractor anniversary event raises $600K to fight hunger
Donation supports five Feeding America food banks serving thousands in three states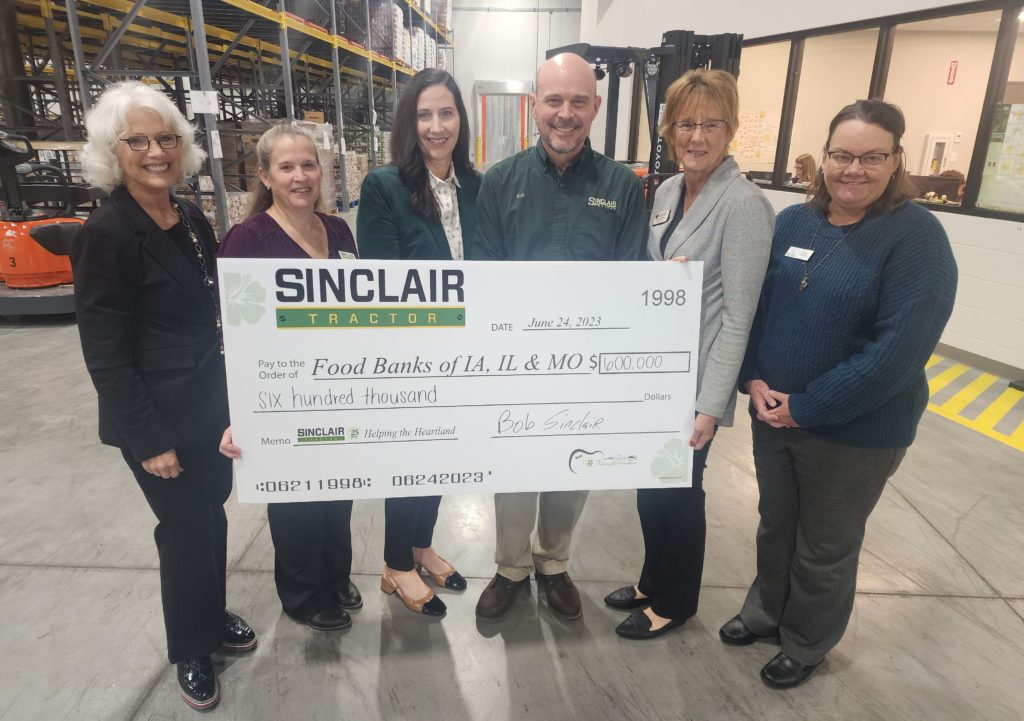 DES MOINES, Iowa (Nov. 8, 2023) — When Sinclair Tractor celebrated its 25th anniversary this year, owner Bob Sinclair said employees made it clear they wanted to do something big.
A daylong appreciation event for more than 10,000 customers? Check. A command performance from legendary band Sawyer Brown? Check. And then the biggest goal of all: Give back to food banks in the communities Sinclair Tractor serves.
Big check.
Thanks to the generosity of Sinclair Tractor employees, customers, suppliers and friends, the tractor dealership's 25th anniversary raised $600,000 to support food banks serving southeast Iowa, western Illinois and northern Missouri. Those food banks include Food Bank of Iowa, HACAP Food Reservoir, Northeast Iowa Food Bank, River Bend Food Bank and The Food Bank for Central & Northeast Missouri.
"We are thrilled to receive this generous donation from Sinclair Tractor, which will impact countless lives," said Food Bank of Iowa CEO Michelle Book. "We are honored that so many different community members came together to contribute to this gift and invest in ending hunger throughout the region."
In addition to Sinclair Tractor, other key donors to the initiative included Quality Ag Service, Michael Walker Advertising, Cookies BBQ, John Deere, the John Deere Foundation, Brandt Agricultural Products, AGI/Westfield, Unverferth, Tractorhouse, the Iowa Auctioneers Association, Farm Credit Services and many other caring individuals and companies.
"Celebrating 25 years with our employees, customers and suppliers was wonderful," said Sinclair Tractor CEO Bob Sinclair. "But leveraging our company's milestone to combat hunger in our corner of the world made it magical."

About Food Bank of Iowa
Established in 1982, Food Bank of Iowa provides nutritious food for Iowa children, families, seniors and veterans to lead full and active lives, strengthening their communities. Serving 55 of Iowa's 99 counties, Food Bank of Iowa delivers more than 21 million pounds of food (more than 17 million meals) to its 700 partners annually. Learn more at foodbankiowa.org.
About Sinclair Tractor
Sinclair Tractor was founded in 1998 as a local, family-owned John Deere dealership. Sinclair Tractor serves southeast Iowa, western Illinois and northeast Missouri from 13 locations. The Sinclair business portfolio also includes five NAPA Auto & Truck Parts stores, Yield Force Agronomic Services and Sinclair Supply, providing a variety of services for large ag customers, residential and commercial clients. For more information, visit www.sinclairtractor.com.
Media contacts:
Annette Hacker, VP communications, Food Bank of Iowa, 515-867-2885, ahacker@foodbankiowa.org
Darian Graff, marketing, Sinclair Tractor, 641-622-3838, darian@sinclairtractor.com