Winterset Home Cook Wins Food Bank of Iowa Chopped at the Iowa State Fair
Iowa resident awarded $1,000 — this year's largest cooking contest prize
The debut of a new food contest at the Iowa State Fair on August 22 drew attention to food insecurity, while being part of the solution. Sponsored by Nationwide, "Food Bank of Iowa Chopped—Hot Dish Edition" awarded this year's largest cooking contest prize to the person who best demonstrated tasty creativity within a budget.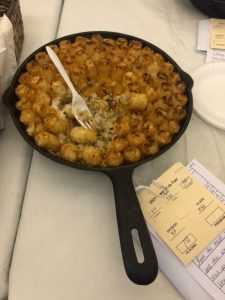 Cooks were asked to create casseroles using foods readily available to pantry clients. Judging focused on taste, affordability, and appearance. The judging panel was comprised of Governor Kim Reynolds, Nationwide executive Brad Liggitt, and Versova executive Ross Dean.
Olivia Smith from Winterset collected the blue ribbon and a $1,000 cash prize provided by Nationwide. Smith's "Family Favorite Skillet Casserole" included tater tots, ground pork, vegetables, creamy sauce and seasoning.
Created to highlight simple and affordable options for all Iowans, blue-ribbon recipes from the competition will be collected in a digital cookbook. The book will soon be available to food pantries stocked by Food Bank of Iowa and available for public download at FoodBankIowa.org.
"Our food pantries regularly ask for affordable, tasty and simple recipes to provide new ideas for pantry clients," said Food Bank of Iowa CEO Michelle Book. "The casserole dishes from this competition are destined to become family favorites."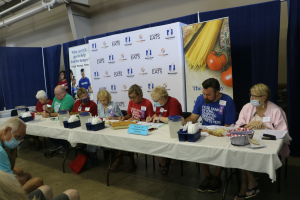 With food insecurity at record levels, Food Bank of Iowa continues to distribute more than a million pounds of food each month to help feed Iowans unable to make ends meet. Anyone interested in joining the fight can visit www.foodbankiowa.org for information on how to help make a difference.