John & Mary Pappajohn Donate Holiday Turkey Dinners to Families in Need
Food Bank of Iowa sourced and distributed the food ahead of the holidays
John and Mary Pappajohn made a generous donation to Food Bank of Iowa to provide special holiday turkey dinners to immigrant and low-income families in metro Des Moines. As a result, food to prepare holiday meals was distributed to 1,008 families on Monday, December 21st ahead of Christmas.
Pappajohn grew up in an immigrant family in Mason City and he and his brothers made a living by processing chicken and turkeys at their local family grocery store.
"When John called in early December to volunteer to provide food for the needy, I was elated," says Michelle Book, CEO Food Bank of Iowa. "Due to the relative cost, we do not generally allocate tight food budget dollars to purchase turkeys. This was a dream come true for my team, and they rallied to make it happen with short notice."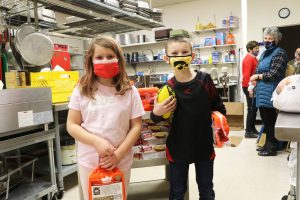 Community activist Al Perez helped link the food bank to seven metro churches who serve Des Moines immigrant communities. Additional refrigerated trucks were rented to make certain the food would arrive safely and in time for upcoming holiday meals. Volunteers stepped up to drive trucks, package and distribute the food.
Food to prepare a complete holiday meal was sourced by Food Bank of Iowa from the Fareway Grocery Store Company, using the funds provided by John and Mary Pappajohn. Seven metro churches serving immigrant and low-income Iowans identified families who received the unexpected joy of a complete holiday meal—families who would otherwise have gone without this year.
Due to the economic impact of COVID-19, food insecurity has doubled overall and tripled for households with children. Latino and African American families have been the hardest hit, with food insecurity rates of 47% and 39% respectively during COVID-19.
As an immigrant having arrived in America from Greece, John Pappajohn was adamant that immigrant families, struggling to make ends meet during this very challenging time, receive this help.